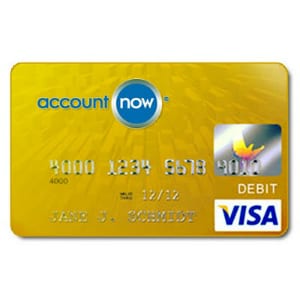 The AccountNow Visa Card offers a way to avoid having a checking account, and makes it so you can't be hit with any overdraft fees. Perhaps you've seen prepaid cards like these being offered at places like Wal-Mart or on TV and wondered what the catch is. Of course there are fees associated with using it, but does it make sense to take those fees over not having a checking account, or going with one from a big bank?
Overview
Over the years banks have become more and more strict about who they let open an account, with many verifying applicants using TeleCheck or ChexSystems before opening their account. Once you're in the bank it isn't pretty, as many now have very high NSF fees, monthly fees if you don't carry a minimum balance, and nickel and dime fees each time you want to make an ATM withdrawal or perform other actions with your account. In many instances even "totally free" checking accounts come with their fair share of fees, making it frustrating to see your money go away for nothing.
The Claim
Prepaid debit cards like the AccountNow Visa Card have been growing in popularity in recent years, and it's not hard to see why. Of course they take a monthly fee in order to use the card, but at least you know where you stand with don't have to wonder if you're going to overdraw your account and incur an overdraft fee. They say that there's no credit check involved here, and that everyone gets approved.
The Process
You can tell your employer or the government to send your paycheck or benefits to the card and choosing the direct deposit method is always free. Once the money is on your card you're able to use it wherever you see the Visa logo. Just be advised that it is not technically a credit card, so if you use it to rent a car you'll still be subjected to a credit check and will have to provide additional information before they'll rent to you. But aside from those types of situations you'll be able to use it online, at gas stations, and anywhere else where credit cards are accepted.
The Cost
The monthly charge for the AccountNow Visa Card is $9.95 and they compare their fees to not having a checking account and having to pay to have your checks cashed, and then pay to get money orders to pay your bills. They could also compare it to having a checking account and having to pay for checks, carry a minimum balance, and suffer the occasional overdraft fee. Regardless of how you calculate it, paying a straight fee each month with no surprise fees popping up is a pretty good option for many people.
The Commitment
You don't have to keep your card active for any specified amount of time. You can close your account and deactivate your card whenever you wish. One tip we'd offer is to check out the fees associated with the different features of the card before you perform an action with it so that they don't sneak up on you later. They've got a detailed listing of fees which can help you decide whether what you're thinking of doing is worth the additional cost.
Evaluation
After using the AccountNow Visa Card for over one year we decided that it definitely lives up to its claims and functions the way that you need it to if you've had troubles in the past with traditional checking accounts. Since it's got the Visa logo on it, it's very convenient. Visa and MasterCard are the two most popular credit cards and are accepted just about everywhere. You can select the debit option at many stores and get cash back, you can take cash out of ATMs, although there is a hefty $7.50 fee plus whatever the ATM machine charges you, so you'd want to do that sparingly.
One nice feature that they don't really promote too much is that you can log in and view your account transactions, balance, and other information, much like you can with online banking at a traditional bank. This greatly reduces the need to receive a statement, and helps you keep tabs on where you're money is going, and how much you have left.
Final AccountNow Visa Card Review
The AccountNow Visa Card get the Thumbs Up rating from us, as it is really easy to apply for and receive, easy to deposit money onto, and makes it very easy to make online and offline purchases, just like you'd expect from a debit card. During the time that we tested it out we were able to successfully add money to it using a variety of methods, and never had a problem making purchases, checking our balance, or waiting for the money to clear.
Our Recommendation
The way to decide if this is right for you is to see how much you paid in NSF charges last year to your bank. If it's more than $120 then you should get this. If it's not, then you're probably OK sticking with your bank. If you don't currently have a bank account, and have trouble getting one because you're on TeleCheck or ChexSystems, this represents a great way to receive all of the benefits of having a checking account at a bank, with none of the drawbacks.
What do you think? Does the AccountNow Visa Card work or not?