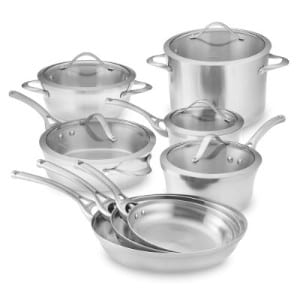 If you're in the market for new cookware Calphalon might be the place to start. Their product lines cover everything in the kitchen, so whether you're looking for a traditional set of pots and pans or a new electrical appliance, they're worth a look.
Overview
With such an expansive range of products, there is sure to be something useful for your kitchen. Finding quality cookware is pretty painless with their online store, since they walk you through the steps on how to pick the products that are right for you. It's available in several different types and it is worth knowing the differences in order to find out what kind of cookware is best for you.
Besides a diverse cookware line they offer a wide range of knives and cutlery, waffle makers, coffee makers, convection ovens, toasters, bakeware, handy kitchen tools, as well as time-saving and useful gadgets.
The Claim
Calphalon claims that their Anodized cookware may be right up your alley. This type of cookware is made from aluminum that has undergone the process of anodization and is safe to cook with. Anodizing is an electrochemical process that changes the molecular structure of the aluminum making it more durable, increases its resistance to corrosives, and prevents the metals from leaching into the food during cooking.
The Hype
There are plenty of positive reviews and glowing feedback for many of the products they have, so it's no wonder that there's a buzz surrounding this company and their cookware. No infomercial needed.
The Cost
Since there are so many different products, the price of Calphalon items ranges dramatically. For example, you can get a utensil set for $10, or you can get one of their commercial-grade pots for $130 or more. This seems to be a matter of getting what you pay for, and their prices seem in line with competing products offering the same features and benefit
The Commitment
They say their anodized cookware is lighter than stainless steel and the non-porous surface discourages sticking. Unlike stainless steel, anodized cookware cannot be washed in the dishwasher and they will require more specific and careful cleaning instructions. Anodized cookware is much more expensive than non-stick or stainless, its benefits will be appreciated by a cook who is in the kitchen often and preferably has experience using anodized cookware or else has the desire and the time to learn about the proper use and care for anodized cookware.
Evaluation
Their basic stainless steel line is inexpensive and durable. Simple and straightforward, Calphalon has durable, reliable, easy to manage stainless steel cookware. The more expensive, but better looking stainless option is their Contemporary Stainless collection. These are dishwasher safe, easy to clean, and require no special knowledge or equipment to maintain.
Calphalon's online store is the easiest, fastest, most cost-effective method to purchase their products. It also has recipes and special tips for cooking with their products. A series of instructional videos is also available on their website free of charge. These videos are truly helpful to get an idea of how well their products work in action, as well as instructions and advice to get the most out of your cookware.
They truly succeed at offering a wide range of useful and exciting products. Their website design and layout make it easy to find the cookware that is right for you. In order to get the most out of these products, an understanding of your kitchen and cooking needs is necessary if you want cookware you will want to use often and appreciate.
Some of the most common complaints against the anodized cookware is the tendency for small nicks, dents, and discoloring to occur on the surface of the pot or pan. According to Calphalon, these minor imperfections are normal and are not covered by their warranty, so if you do not want to be disappointed do not expect your anodized cookware to stay in mint condition after years of use.
While the high-end, high-tech cookware has its fans this particular line of cookware is not for everyone. The anodization process makes these products unsafe for the dishwasher and must be hand washed. Metal utensils should not be used with anodized cookware and the need to be preheated with low to medium heat before they can be used to cook food.
There is no Teflon coating like non-stick pans have but anodizing the aluminum eliminates the typically porous surface resulting in a non stick pan that sticks less and requires less cooking oil. The price for a thirteen piece anodized cookware set from their site will cost you more than four hundred dollars.
Final Calphalon Review
Calphalon is bound to have a cookware option that is right for you, and because their line is so well-received by users, we're giving it out Thumbs Up rating. A main reason why Calphalon's online store is incredibly accessible and fun to use is their "Your Set" option. Instead of purchasing an entire set of stainless, nonstick, or anodized cookware Calphalon allows you to customize a cookware set to suite your needs.
Our Recommendation
For those who just want to find out more about the differences between non stick and stainless or if you are trying to find a specific pot or pan, the attractive, user friendly "Your Set" custom cookware feature makes it simple. Save yourself some time before purchasing cookware by checking out their main site to find reasonably priced, high-quality kitchen goods that will improve your cooking experience.
What do you think? Does Calphalon work or not?