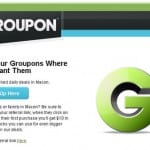 If you didn't know about Groupon before they went public, you probably have heard about them now. They are designed to save consumers money on things they'd buy anyway, and also provide value to business owners by driving more traffic to their offers. But does it work? Do both sides actually win with this, and what's in it for Groupon?
Overview
Many speculators are saying that Groupon is leading us into the next Dot Com Bubble and their recent IPO is based on a flawed business model and they will go belly up at some point.
But Google offered them $6B for the company, and they typically don't spend that kind of cash unless it's something huge like YouTube. So they must be doing something right, but for whom, the consumer, small and large businesses, or themselves?
The Claim
The big claim that Groupon makes is that you can save a ton on food and local events if you take advantage of one of their offers. The gimmick is that there's a limited number of offers available, and once they're gone they're gone, it's back to full price for the rest of us.
The Hype
The hype is that people don't want to be left out of a great deal. There's large amounts of greed and jealousy going on here on the part of the consumer. It's that whole mentality that if you don't buy this offer, someone else is going to benefit from it, so you'd better get it before they do.
If you were going to go to a restaurant anyway, and you manage to snag an offer from Groupon, then it functions pretty well. But if you start buying tickets to things you don't really want to go to, or buying food at places you don't really want to eat at just because they run an offer, you might have a problem.
The Cost
The costs associated with Groupon get passed to the small businesses, so you as a consumer don't have to worry about them. Groupon takes their cut and the business gets what's leftover. Presumably the business is running the offer in attempt to win over new and repeat customers.
They are willing to heavily discount their offers to get people interested, hoping that once someone tries their restaurant or club, that they'll be back for more at a later date and pay full price, and hopefully bring others.
The Commitment
Once you sign up for Groupon your inbox might get inundated with offers. You actually have to pounce on deals as they pop up or you'll be left behind. You can't passively use the service and hope to get deals delivered to you. It requires a purchasing decision each time you take advantage of an offer. Once you buy a deal you'll have to go to the restaurant or club, or whatever event you bought into.
Evaluation
If you're into the night life, or into eating around town at different restaurants then you will be the type of person that benefits most from the deals available at Groupon. However, as far as long term stability goes, you probably will get less and less great offers the longer they're in business. At some point they will hit the limit of businesses that can benefit from their service, and the offers will become overused, and overdone.
Does Groupon Really Work?
For the consumer, Groupon can be a fun and somewhat addictive way to get things in your local area at reduced rates. It caters mostly to spopaholics that like to spend money on impulse purchases. As a way to get discounts on a regular basis for things you actually need, it's not very practical.
Sure, you can get steep discounts, what amounts to nearly freebies, but you'll still have to pay something, and often times the businesses aren't taking a loss, even while giving the discount they're still probably covering their costs.
Our Recommendation
Sign up for Groupon and give it a spin. It doesn't cost anything to get the deals delivered to your inbox. It can get rather annoying to constantly get bombarded with product and service offers. If this happens it's easy enough to unsubscribe.
What do you think? Does Groupon really work?