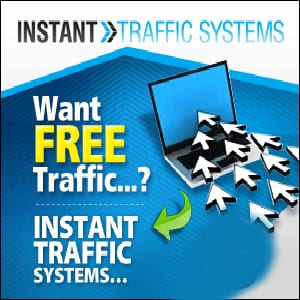 Instant Traffic Systems says that it can show you how to drive tons of traffic to your website, within just a few hours of implementing it.
Overview
The basic problem for any website owner is how to bring people to your website. You could be offering people a free $100 bill but if they don't know your site exists you won't get anyone claiming their free money. There are plenty of traffic programs out there, and they all basically promise the same thing. They say they have the key to bringing lots of traffic to your site so that you can actually start making money online, or more of it.
The Claim
Instant Traffic Systems says that they can bring more traffic to your site – and that you'll make more money – or they don't want you to keep their system. That's where the boldness of the claim appears, because many programs only claim to send more visitors to your site, they don't really promise that those visitors will do anything once they get there. But ITS says that they will not only bring the traffic but that this traffic will either click on your ads, or will buy what you're selling, resulting in increased revenue.
The Hype
The hype is that this is a traffic program, and therefore will resonate deeply with website owners that are deprived of traffic. Also, anything that is promising you traffic this quickly is going to show you a method that involves paying for traffic, so if you think you're going to get high quality traffic overnight without paying for it, you're going to be disappointed.
The Cost
Instant Traffic Systems is $37 a month, and if you don't want to be forced to watch the excessively long pitch video, just try clicking off the page and you can try it out for a week for just $1.
The Commitment
This is a video-based course so you have to commit to sitting down and watching all of the videos. Some people like video tutorials, because it activates several different learning styles at once, but others get fed up with them because of their slow pace, and prefer reading so they can flip to parts they want, and can really digest what is being taught.
Evaluation
They talk about the importance of social bookmarking, and using Web 2.0 sites to drive traffic to your site. Pretty basic stuff for most website owners. They also cover RSS submissions and video traffic, again pretty rudimentary for most webmasters that have been around for the last few years at least. They also cover affiliate traffic, which is a gray area for a lot of us.
They discuss traffic arbitrage, which is the concept of buying cheap traffic and getting it to convert for more money than what you paid for it. For example, you could could buy clicks at a penny a piece and then then hope that it convert in the form of clicks or affiliate sales. They also cover email leaching, using banner ads, press releases, and other tactics that you can use to theoretically bring traffic to your site. It's really a comprehensive list of strategies, and depending on your feelings about this, it's either a good thing or a bad thing.
Some might view it as information overload, that by showing so many different ways to bring traffic to your site, they don't go in depth on just one method and cover it in detail. You might be left with only a vague idea of what to do next after going through everything they teach you. Some people might do better with just one or two methods explained with a step by step action plan of what to do next, and then what to do after that.
Final Instant Traffic Systems Review
Instant Traffic Systems is definitely comprehensive, but the case can be made that if you have one successful method of bringing traffic to your site, why do you need 10 more? But it would be good to diversify your traffic sources, in case one method stops working. The course is solid and the information is well-thought out and presented. Just be sure to keep a level head and try not to absorb it all at once. Go through one module completely, and start testing it out as you go along.
Avoid the temptation to do a marathon session of watching all of the videos back to back without taking action on what you learned in the first video. It's a good idea to look at all of the different titles and start with a method that you've already shown an interest in and see if they can give you any pointers you didn't know. For a buck you can't go wrong here, and a week to watch the videos is just enough time to make up your mind.
Our Recommendation
If you've ever wanted to know about a dozen or more ways to bring traffic to your site, this would be a good video series to digest. If you find one you like, and that seems to be working for you, you can always seek out additional resources that help you learn more about how to make the method more effective. We don't know why this is a recurring monthly charge, so we'd only recommend it for a month, or even just using the $1 one-week trial and getting the information you need, but not continuing on with it monthly.
What do you think? Does Instant Traffic Systems work or not?