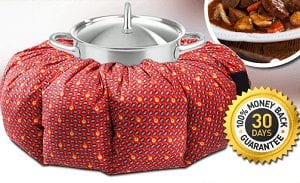 We have really tried to bring you different types of products that make meal preparation a whole lot easier. Some are better than others. This time we want to see what you think about the Kalahari Cooker.
Overview
The Kalahari Cooker is a slow cooker, but it is a cooker on the go. It doesn't need to be plugged in so just imagine all the places you go that doesn't have power that you can use. Yet you can still have a nice hot cooked meal.  You need a 2.9 quart pot to insert into it, and it is recommended that it be one with handles and a lid and ideally be cast iron. Basically though, you still need to start off your cooking process with the use of your stove. You have to simmer the food then transfer it to the Kalahari Cooker where it continues the rest of the cooking.
The Claim
They say that it is great for most places where you don't have access to cooking like pot lucks, camping, bbqs and tailgating. They say this form of cooking technique was perfected in the Kalahari Desert.
The Hype
If you like cooking Indian dishes then they are encouraging this with the use of this product.They are focusing on the fact, that because it doesn't require any electrical source it is eco-friendly. The marketing promo makes it nice and clear about the different types of dishes that this product can be used for and they really do look rich and flavorful.
The Cost
You are looking at two payments of $14.99 each plus shipping of $8.99. So in total around $39.
The Commitment
It looks like you are still going to have to go through all the steps of at least starting the cooking process on your stove. You will have to follow the guide book that comes with the Kalahari Cooker to know exactly at what point you can stop the stove cooking and transfer the pot to the product.
Evaluation
None of the marketing material seems to give any clear indication as to what makes this product so special in its capabilities to continue cooking the food. Or the length of time it will keep it warm. It basically comes across as a hyped up food warmer. Either the product is limited in its capabilities as an actual food cooker, or the marketers didn't present it well.
Final Kalahari Cooker Review
With such a limited amount of marketing information to rely on, and the fact that it is a new product with no feedback, we are going to give the product a risky try/buy rating. There is just not enough information about the technology behind it. Nor is it a real time saver when it comes to food cooking at least there is nothing specific mentioned.
Our Recommendation
If you are really looking for a portable type food cooker that you can take with you on the go then you may want to take a look at the Hot Logic which has been getting some great reviews on the net.
What do you think? Does The Kalahari Cooker work or not?