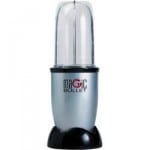 The Magic Bullet is a cute little blender with apparent capabilities to do just about anything in the kitchen. If you believe the commercials. So how well does this device actually do when you take it out of the camera lights and put it into your own home, with actual ingredients?
Overview
Kitchen gadgets are a huge industry. It's easy to see why, most of us love to cook, or would love to cook more if it wasn't such a pain. Anything that makes life easier in the kitchen makes life better in general.
Also, people in general wish that they did more cooking, and will easily picture themselves using a product for the kitchen and being happier. That's why these sorts of products usually do well in the market, and why there's always something new coming out. Marketers know that if they can get you to imagine using their product, half the battle is completed.
The Claim
Magic Bullet is the personal, versatile, countertop magician according to its ads. That's why you shouldn't call it a blender, it's rather insulting for a machine that can supposedly do so much.
The Hype
The hype surrounding the Magic Bullet is mostly due to its ads that really drive home how much it can do. Not only that but they try to convince the consumer that you can construct full meals using the device, when really it's just good for side jobs and preparation. For example the original ad shows them making pesto sauce and alfredo sauce, all with the same blender.
Most people won't be using it in an attempt to concoct an entire meal, so they've spent a lot of time and effort trying to convince them of something that probably won't happen anyway.
The Cost
Magic Bullet is quite pricy compared to other TV products. It's $50 for the complete set, which gives you lots of different containers, all of the different blades, and supposedly everything you need to replicate the results from the commercials
The Commitment
If you currently don't use a blender very often, you'll have to commit to creating things in the kitchen that need to be blended. The common complaint that people have when buying kitchen gadgets like this is that they don't get enough use out of them. Buying a product like the Magic Bullet will not cause you to start cooking more.
That's why you should first develop the habit of cooking more meals from scratch, or using more fresh fruits and vegetables before putting any money down on it. That way you already know you'll use it, and you'll be able to save time and have more fun in the kitchen.
Evaluation
Be sure that when you use the Magic Bullet, you're not afraid to pick it up and give it a shake in between blends. This helps the contents at the top of the cup fall down so they get blended as well. This is only possible because of the small size of the unit. You may not feel comfortable picking it up at first, but once you see that it's not dangerous or heavy, it's not too hard.
Does Magic Bullet Really Work?
The Magic Bullet works really well for some things, and not very well for others. If you stick to making mixed drinks, and chopping up foods that easily fit into the cups. you'll be pleasantly surprised by the job this little thing can do. If you expect it to replace every job that your food processor does, as suggested by the long-winded advertorials, you'll be disappointed.
Our Recommendation
Add this to your kitchen collection, because it's just fun to have around and perfect for some jobs. For example, if you're making different kinds of mixed drinks, you'll want to break it out. Also, if you're just making an omelet or two you'll want to use it to quickly blend up the eggs.
Large jobs are a challenge for this tiny unit, so don't expect it to chop up big things like potatoes or full size tomatoes or onions. Use your other products for things like those, and but out your Magic Bullet for everything in between.
What do you think? Does the Magic Bullet really work?