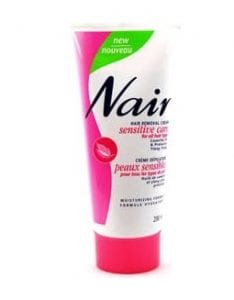 As part of a beauty regime, hair removal is important to many people, both men, and women.  Finding the right products or hair removal system can be a difficult task.  It is important to find a product or system that removes hair easily and has long-lasting effects.
Some hair removal systems can be quite painful to use, as they literally rip the hair from your skin by the root. Therefore this is a temporary hair removal product, as the hair does grow back. People with low pain tolerance tend to look for more non-invasive methods of hair removal such as depilatories like Nair.
History of Chemical Hair Removal
Removing unwanted hair by chemicals is not a new process. Lye was used by Native Americans to remove body hair.  Quicklime, calcium oxide was used to remove hair in ancient Turkey.
What is Nair?
Nair is a depilatory cream, gel or lotion,  used to remove hair in the convenience of your own home. It is very easy and quick to use.
The Claim
Nair claims to be able to remove your unwanted hair without using a razor to shave them. The result should be smoother legs than you get from shaving and longer-lasting results. It is supposed to work by breaking down the bonds of your hair so you can easily wipe it away, along with the excess Nair.
The Hype

The hype comes from their longevity, and catchy jingles over the years, the most popular being the "If you dare wear short shorts, Nair for short shorts" one.
How Does Nair Work?
As Nair is a chemical depilatory, the cream breaks down and/or dissolves hair from the shaft. This is the part of the hair that is seen on the skin.
Nair as a hair removal system  does not remove the hair from its root or below the skin. It is basically the structure of the hair that is targeted. Each strand of hair is constructed of keratin, which are protein fibers. These fibers are twined together and bonded by natural chemicals in the body.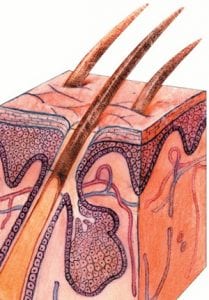 Depilatories contain chemicals that break down the natural chemicals that bond the protein fibers together, this is how the hair is dissolved.
The base chemicals such as calcium, sodium hydroxide or potassium make the shaft of the hair swell.
Then the chemical salts (salts of potassium, calcium or thioglycolic) enter the hair and attack the bonds which make hair fibers bond. Sulfur bonds which are in the hair shaft react to Nair and can create a rotten egg smell.
Will Nair Damage My Clothing?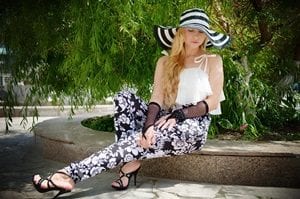 Materials such as polyester, rayon and cotton do not contain sulfur bonds. As Nair chemicals work to destroy sulfur bonds, it is unlikely that these products will not damage your clothing.
How Do I Use Nair?
Nair products are simply applied to the skin by using a spatula or applicator. The wait time once applied can vary anywhere from 3 to 10 minutes. Do not leave the cream on longer than 10 minutes. Once the necessary time has elapsed, then the product is washed or wiped away. It's that easy.
Can I Use Nair On My Face?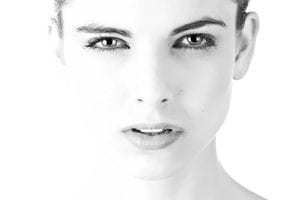 This hair removal system has specific products available to remove facial hair. These formulas are milder than the regular Nair formula used for the body. There is also a brush on facial hair remover available.
Please note that Nair should not be used to remove nose hairs, as the skin in and around the nostrils is very delicate. It is also not recommended to use Nair on eyebrows or close to the eye area.
Can I Use This Hair Removal System on My Pubic Area?
You can use Nair on pubic hair, however apply it carefully to ensure it doesn't touch your private parts. Remove with a soft cloth.
How Long Do the Effects Of Using Nair Last?
Hair grown varies from person to person. Nair can remove hair anywhere from one week to one month, depending on the rate of growth.
How Long Should the Hair Be Before Applying Nair?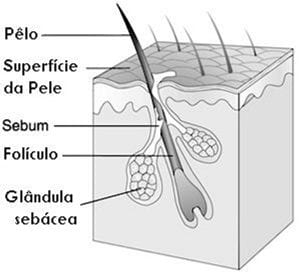 Nair is a depilatory and removes hair from the surface of the skin. Although it can be used to remove stubble, it works better with longer hair growth.
How Often Can I Use Nair?
You can use Nair as often as you would normally shave, as both methods are similar in removing hair. They both remove hair from the surface of the skin.
Benefits of Using Nair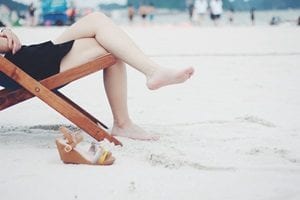 There are many benefits to using depilatories like Nair. They are easy to use and they work fast. You can purchase them at most drugstores, grocery stores, and department stores. They can also be purchased online. Of course, there are other options for hair removal like laser hair removal for example, but it comes with its own pros and cons.
Nair can be used on all hair types and all skin colors. It is a painless way to remove unwanted hair and is easier than shaving or threading.  This hair removal approach can be used in hard to reach areas of the body where other methods may be difficult.
It is far more economical than laser, waxing or purchasing expensive hair removal systems.
Are There Any Side Effects From Using Nair Products?
People with sensitive skin may experience side effects like:
Skin reactions
Chemical burns
Blisters
Rash
Irritation
Peeling skin
That is why it is very important to do a test area prior to applying a large amount.
Some people with Asthma can be affected by the fumes of the product.
What is The Cost of Nair Products?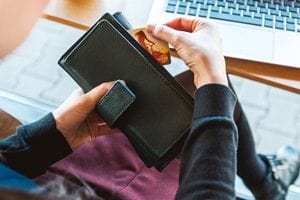 The cost of Nair products varies depending on the size you choose, the product you choose and where you purchase them.
Nair Compared To Other Hair Removal System
Although this removal of hair system has been around for awhile it does not go without competition. For those who want to compare this to other types of systems they may want to look at the No No system and how these both compare to the Evoderma.
Can Men Use Nair?
There are Nair products on the market which are specifically designed for use by men.
What Are the Ingredients in Nair Hair Remover Body Cream For Men?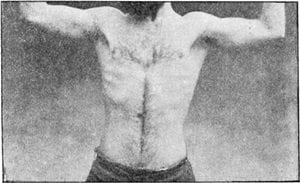 Nair has produced a hair removal Body Cream for men which contains the following ingredients:
Water
Urea
Mineral Oil
Potassium Thioglycolate
Calcium Hydroxide
Cetearyl Alcohol
Ceteareth-20
Lanolin
Sodium Hydroxide
Silica
Aloe Barbadensis Leaf Juice
Fragrance
As with any product you are going to apply to the skin, you should always read the ingredients to make sure you have no known allergies to any of them. If you are not aware of allergies pertaining to these ingredients, you should always test a small area on the skin and wait 24 hours to see if you are having a reaction to the product.
Features of Nair Hair Remover For Men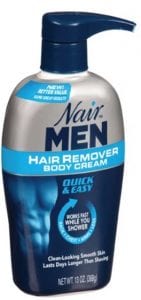 When using Nair Hair Remover For Men, the skin tends to stay smooth and lasts longer than shaving. This product is also effective on thick coarse hair. This product says on in the shower until it is ready to be rinsed off. It is easy to use and works quickly.
Additional body areas:
This product can be used on the back, arms, legs, and chest. Please note this product is not for use on the face or head.  This Nair product is specially designed to remove hair from below the surface of the skin by dissolving it. Using this product saves the aggravation of daily shaving and lasts much longer.
This product is also available in a pump for easier application. It is also dermatologist tested.
What is the Cost for Nair Men's Products?
The cost for Nair Men Hair Remover Body Cream is $22.41 for 1 individual 13 ounce bottle. For additional savings, you can purchase a 2-pack of 13 ounce bottles for $35.74, both are available through Amazon at this price.
What Are The Experiences of Men Using This Product?
59 % of customers who reported using this product rated it 5 out of 5 stars. Rob, a customer that uses this product, stated that this product is amazing as it works fast and he did not have any type of reaction to it. He achieved the results he was looking for. The only thing is would suggest is the sale of larger bottles. He used quite a bit of the product for his legs.
Some of the men stated that they have sensitive skin and the product caused some irritation. As everyone's skin is different, this is a possibility with any product you apply to the skin.
Recommendation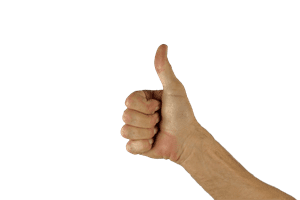 The bottom line regarding the use of Nair products really depends on you. If you have skin sensitivities it probably isn't a good idea to use any chemical product on your skin. If you do not have skin sensitivities, then these products are well worth trying.