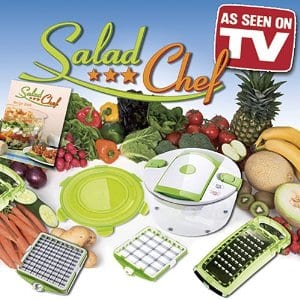 The Salad Chef is an all-in-one salad preparation gadget that includes a salad mixing bowl, as well as a few different features that make it the only thing you'll need to make a salad from scratch. If you've been wanting to eat more salads in an effort to eat more healthy foods, this would be a good thing to have around the kitchen to encourage you to make salads more often. We were intrigued by the claims made, and we had to take it for a test drive to see how it actually works.
Overview
Even though it seems easy enough, making a salad can be a pretty elaborate process, increasing in difficulty with the number of ingredients that you include in it. This means if you want to make something like a chef salad, with ham, turkey, cheese, and an assortment of veggies, you'll pretty much be taking up your entire countertop, and a lot of different gadgets to make it. That's a big reason why people order things like a Cobb salad at a restaurant, because it's so hard to make it home.
The Claim
Salad Chef says that you can basically do everything you need to in order to make a salad, all with their kit. This includes rinsing off the lettuce, to dicing up veggies and even chicken breast if you're making something like Chicken Caesar Salad. It can even spin the lettuce once you've rinsed it, getting all the water off of it the easy way. They say it spins really fast, using centrifugal force to whisk the water away quickly.
They also say that the slicing blades are razor-sharp and made of hardened stainless steel so they won't get dull. They also state that the containers are made of crystal clear BPA–free plastic that is durable, and shatterproof, and should last you several years. It is also dishwasher safe so they say it's really easy to clean it up, and they say the lid closes tight for easy storage or transportation.
The Hype
Salad often gets brought up as a healthy thing to eat, either before your meal, or as a meal itself. Most restaurants these days have a pretty extensive salad offering on their menu, and there are even some places that feature salads exclusively. Being able to make a restaurant quality salad at home in a short amount of time is a big draw.
The Cost
Salad Chef is $50 broken down into one payment of $30 which includes the shipping, and a $20 payment 30 days later. At first glance this might seem pricey for something that only makes salads, but when you consider all of the tools that it is replacing, it starts to make more sense. Also, when you factor in that this should last you for years, it doesn't sound like a bad deal at all.
The Commitment
You'd have to be committed to eating salads on a regular basis in order to get some good use out of this. If you're already in the habit of making and eating salads, this should dovetail nicely with your current lifestyle. If you don't eat as many salads as you'd like to, this can be a good catalyst to get you eating more healthily.
Evaluation
We tested out the Salad Chef to see if it really could do all the things it says it does. One of the things we noticed was that it does require a little more force than is shown in the infomercials, but that it does make things a lot easier when constructing a salad. It also allows you to make more sophisticated salads in the same time it would take you to make simple ones. Your brain will come up with new ideas when you start to see how easy it is to chop up veggies, and also julienne them to make it look nice.
It's really easy to clean up as well, because they've included a button that pushes out all the little tidbits of vegetables and meats that can get stuck in the unit. After that, you can simply rinse it off, or if needed drop it in the dishwasher, or watch it off with warm soapy water. We've used it several times since the test, and the salads always come out looking great and tasting better than they would if we were using something like this because we end up using more ingredients.
Final Salad Chef Review
The Salad Chef is durable, and does all that it says it can do. It's getting our Thumbs Up review, based on our own in-home testing, as well as other users backing up our own findings. The chances of you liking this are very high, and at this price point it is one of the better kitchen gadgets you can have because it totally knocks out the salad making situation. If you like to bring things to parties, this is great because it can make large, great-looking salads in a fraction of the time.
Our Recommendation
We recommend getting this if you are currently using several different kitchen gadgets to make your salads. Maybe you already have something like a Slap Chop or a grater that can also julienne, but we like that this is all self contained. When it's time to make a salad you just bring this out and everything you need is right at your fingertips.
What do you think? Does Salad Chef work or not?