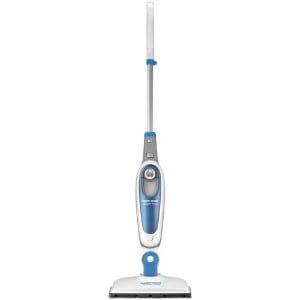 The Smart Living Steam Mop likes to stress the fact that it doesn't use chemicals to clean up your home, and just uses steam to sanitize and clean it. The only problem with steam products is that they're usually resounding successes if the company gets it right, or wonderful flops if they get it wrong. It may seem simple enough, but steam cleaning is hard to get right. Let's see if Smart Living pulled it off.
Overview
Steam is very versatile, it and can cook food, power locomotives, get the wrinkles out of your shirt, and get tough stains off of most any surface. When you combine steam with a mop, it just makes perfect sense that this is a match made in heaven. The mop makes it so you don't have to get on your hands and knees, or stoop to clean up the floor. The steam makes it so that you don't have to use a lot of elbow grease or go over the same spot many times trying to get a stain to come off.
The Claim
The makers of the Smart Living Steam Mop really harp on the idea that this is a "green" product. They say that it is a way to live sustainably, and they're right to some extent, this is a form of reducing the impact that you're having on the Earth, but it's pretty much a break-even with all of the plastic, wires, metal and electrical components it will eventually add to a trash heap somewhere.
Another aspect of this product being better for the environment is that it doesn't use disposable pads, it uses reusable microfiber pads that can be washed and reused again and again so you don't have to keep tossing out the old ones. But unless you are a mopping wonder that is mopping up all the time you really won't go through that many paths, so this is again a questionable statement if they're calling that a green feature.
The Hype
The hype is that many of these steam mops try to make the case that they are doing the Earth a favor by not using cleaning chemicals that add to the pollution of the planet. However, compared to the sort of resources that the average American home consumes, and the amount of waste that they produce, using a bit of cleaning chemicals to get your kitchen floor clean is not really high on the chart as far as offensive actions go.
The Cost
The Smart Living Steam Mop sells for around $145 at various online retailers.
The Commitment
Using a product that features steam should make your life easier because the steam loosens up dirt that has been worn in, and also cleans up any wet messes that should happen. However, some reports are saying that this uses too much moisture, and the result could be that you have to clean up after you are finished cleaning up, adding time and effort to the process and making this an additional commitment.
Evaluation
Most reviews of the Smart Living Steam Mop say that it doesn't really live up to expectations, leaves the floor too wet, and is too heavy to do any big jobs. There are a few positive reviews that say it works the way they thought it would, but overall people seem to be pretty under-impressed. Since this product is made from a relatively new company, it's not surprising that they couldn't quite pull off something like this. There's somewhat of a barrier to entry, and unless you have a superior manufacturing process, you're going to have a mop that gets mixed to negative reviews.
When you go with a steam mop, you want to get one that not only has heavily lopsided reviews to the positive, you want to get one that has all the features you could ever want, all in one unit. That's why companies make mops like the H20 X5 Steam Mop which has five different functions all-in-one tool so you don't have to fill your broom closet with a bunch of different gadgets.
That's also why you'll see some of the most well-known brands with their own versions of successful steam powered products. Companies like Bissell had to get in on the game and have made a pretty good impression on customers. With them you can be assured you'll get a well-built machine that will last several years.
Final Smart Living Steam Mop Review
The Smart Living Steam Mop can't earn our approval because they just don't make a strong enough case for themselves, and the feedback coming in from real users points to this being a dud. It's not really the manufacturer's fault, because steam-based products are not the easiest thing in the world to make. That's why there's only a few companies out there that can get it right, and lucky for them most upstart companies will end up flopping and closing up shop.
Our Recommendation
There are some really good steam mops out there that you should consider before going with this one. For example we discovered one of the best reviewed steam mops, the Shark Steam Pocket Mop, and found it to be all that people have been talking about. With all of the features it has, and the fact that it includes everything that the Smart Living model has, this would be the one we'd go with.
What do you think? Does Smart Living Steam Mop work or not?