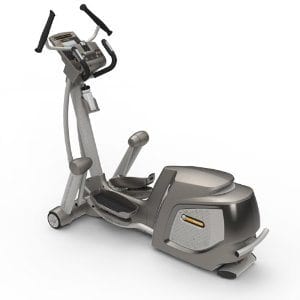 The Yowza Fitness Captiva is an elliptical machine with a few twists. It has special handles that allow you to change up your grip and work different parts of your core. It also has incline settings to make things more challenging. The big question is, is this the right elliptical machine at this price point?
Overview
Elliptical machines have long been a staple in gyms, finding a place between the treadmills and stationary bikes. Users like them because they're low impact, and they seem to have replaced the stairclimbers as a way to get your cardio done. The team at Yowza have outfitted the Captiva with a few features that shake things up a bit and make this one multi-faceted elliptical machine. So let's see if it pays off.
The Claim
The makers of the Yowza Fitness Captiva say that with the ability to add incline up to 50%, and the CardioCore handlebars, this machine has everything you need for a high quality cardio workout. You can adjust your stride length right in the middle of your workout so that you can avoid the muscle strain that comes from using the same stride length for extended periods. It's able to accommodate foot sizes up to 20, and the weight limit on it is 400 pounds. It has the features you'd expect it to have, such as the ability to read your heart rate so you can stay in your target zone.
The Workouts
There are 12 pre-set workouts that you can perform, but we also noticed that there are training videos available for this that can show you can use it to achieve certain fitness and weight loss goals. If you're used to the machines in the gym that don't have a core bar, and don't have the ability to incline, there will be a bit of learning needed to get familiar with all of the different motions and settings available.
The Cost
The Yowza Fitness Captiva is available for $2000, and at this price it has plenty of competition, but few have the same exact specifications. The core handlebar is the feature that is hard to find on other units, and the incline grade also makes it one of the top choices. If you buy direct they have a 60 day guarantee on it, but you'd still be left with the return shipping costs. That's why it's a good idea to check out some other models in this price range to see if they can match or beat what this has to offer.
The Commitment
Just like with any workout equipment, you're still going to have to be the one that gets on it and uses it. For some, spending this amount of money to work out can act as enough motivation to get on it and use it. For others, it may come to represent a purchase they regret because they still can't force themselves to use it. It's a good idea to establish your fitness routine before buying a higher-priced item like this one, rather than hoping that it will be the catalyst to a new, fitter you.
Evaluation
The feedback on the Yowza Fitness Captiva is good if you're looking at user reviews. Most people that have bought it have said that it's quiet, that the customer service from Yowza was good, and that they're happy with their purchase. That's a good thing for a piece of fitness equipment because buyers will be more prone to hold a product like this under the microscope to make sure that they're getting good value for their dollar.
It's a fully loaded model, with the ability to hook up your iPod or MP3 player to it so that you can listen to your favorite workout music while on it. It also has a tray that you can put your iPad on if you want to watch movies or TV shows while you're working out. One potential drawback is that it doesn't fold up, so it's going to take up its share of space in your home. Be sure that you have a designated fitness room or a large corner set aside for it.
Final Yowza Fitness Captiva Review
We're giving the Yowza Fitness Captiva a Thumbs Up rating based on the number of happy users, and the innovation it shows compared to the competition. By being able to work your core in conjunction with an aerobic workout, it's increasing its effectiveness and saves you time. We checked out some of the competing elliptical machines at this price point and were surprised to see that they were lacking in any sort of remarkable innovation as far as the handles go. They just have the same back and forth motion that they've always had, which provides limited results and can get tedious quickly.
Our Recommendation
This machine is good for those that want to have a reliable way to get their cardio workouts in, regardless of the weather outside. There are workout videos available that shows you how to use this to its full potential, and will keep you from getting bored with it. Just be sure to follow up with some strength training and a healthy diet and you'll be on the path to fitness. Compared to other models, we feel that this offers everything they have as well as a few bonus features that make it a worthwhile purchase.
What do you think? Does Yowza Fitness Captiva work or not?