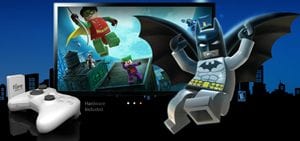 There is a good chance that the kids in your household are into gaming, and this goes for even the young ones. If this is true then you are going to love the convenience of Flare Play.
Overview
Flare is a top quality gaming platform where you can stream right to your T.V. Just imagine, no more fighting over who gets to use the computer so the kids can play their games. Or maybe no more having to run out to the store because there is a new game that has been released.
The Claim
The company claims that there system is really easy to set up. There are no contracts involved. It is portable and there are new games coming out every month.
The Hype
It is really convenient when it comes to pleasing the whole family with game choices. This is one of the greatest benefits that appeals to those who become a member with Flare Play. Parents also get to control what games the kids are playing. So if you want to keep tabs on the game playing to restrict them to the non violence types, then getting them turned onto to Flare Play is the way to go.
The Cost
Flare Play is a membership offering, that comes with different plans. There is the Disney game pack which gives you access to all of the Disney games they have, and the cost for this is $9.99 a month for the service. Next there is the Premium game pack which is an assortment of 150+ games. All of the packs come with a one time fee of $9.99 for the microconsole. Finally there is the combo game pack which includes both the Disney games and the assorted for $14.99.
The Commitment
You are going to have to go through the process of installation, but don't worry this isn't difficult. Flare Play has some excellent step by step videos to help you with the quick and easy set up.
Evaluation
When it comes to ease of use and convenience Flare Play has thought of it all. It is a real bonus not to have to worry about downloads or discs. The platform works off the cloud, so the kids can access their games from wherever they are. This just adds to the convenience. There is also a great selection of games for any age group. So it really makes this a family affair.
Final Flare Play Review
We are going to give the Flare Play a thumbs up rating. They have an excellent selection of games. We like the fact it works off the cloud so there are no time wasting downloads. The kids are not restricted to game playing just on the computers. The price is really reasonable and we also like that there are no contracts. Plus, the platform is being continuously updated every month with new games.
Our Recommendation
We recommend going with a system like Fare Play because in the end it can be a money saver. The kids tend to get bored with their games easily. You no sooner purchase one that they play non stop for a few weeks, then it gets shelved. This way whenever anyone tires of a game they simply choose another one to play with no additional cost. Just as Netflix has brought a great deal of enjoyment to the home in regards to movie watching, it s evident that Flare Play has the same ability in respect to gaming.
Official Website: Flare Play
What do you think? Does Flare Play work or not?