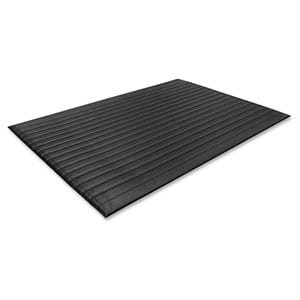 We talk a lot about resources to help with chronic pain but sometimes the cause of this can be fatigue. So maybe the Genuine Joe Anti Fatigue Mat can be of help.
Overview
The Genuine Joe Anti Fatigue Mat is a 3/8″ thick vinyl foam structured mat that you can use both at your home or business. It is designed to help to reduce the fatigue that can come with standing in one place, or sitting at one location for a lengthy period of time.
The Claim
The promoters of the Genuine Joe Anti Fatigue Mat say that this mat with conform with your foot contour. They say that it helps to reduce the pressure from your heels that often comes with being on your feet, or remaining stationary like at your desk for long periods of time.
The Hype
Anyone that is on their feet for a long period of time often soon begins to experience some form of discomfort. It could affect their legs or their back, or just make them begin to feel tired. At the same time there may be no other alternatives but to put up with this because you have to stay standing. The promoters of the Genuine Joe Anti Fatigue Mat say it can help bring some relief, so those in this type of situation are usually most interested in this possibility.
The Cost
If you decide to purchase this product from Amazon then you can expect to pay $13.90.
The Commitment
You are going to want to use the mat where you are standing for the longest period of time. Or sitting with your feet on the floor. If this takes place both at home and at the office then you may want to buy two of these mats so you have one for both places.
Evaluation
There is no doubt that a lot of people suffer with chronic pain and can be caused from having to remain on their feet in one spot for too long. This even applies to those who have to sit at a desk for many hours. If a product such as this Genuine Joe Anti Fatigue Mat can help to remove some of the fatigue that could lead to chronic pain helps, then it is worth considering.
Final Genuine Joe Anti Fatigue Mat Review
We are going to give this product a Thumbs Up. It is a best seller on Amazon. It has to date received 746 reviews and been given a 4.1 star rating.While this is a great resource to help with this kind of body stress, you may also want to consider additional resources like support socks maybe and proper footwear.
Our Recommendation
There have been a lot of good remarks made about the Genuine Joe Anti Fatigue Mat. For those that were less than positive they remarked on the mat only being good for light use. Some said that it works well for a few hours but didn't find it helped when they had to stand for long periods of time. Some people even experience pain the feet and swelling. In the past for this type of condition we talked about Miracle Socks. This product is split on its reviews in regards to how beneficial it really is.
What do you think? Does the Genuine Joe Anti Fatigue Mat work or not?