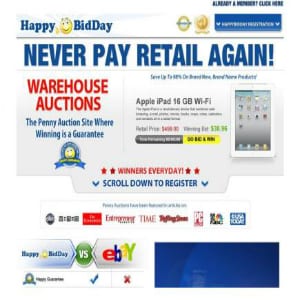 If you've been thinking that Happy BidDay is finally a penny auction site that might not be a scam, let's look more closely at how it works to verify this. What we're looking for is something that separates it from all of the other junk out there, something that makes it more worthwhile for people to spend their time on.
Overview
Only Wal-Mart uses more smiley faces in their promotions, so you can't help but feel happy when you're at their site. But after a quick look around it's pretty clear that they're not much different than your other penny auction options, and they don't have a system in place that handles the problems with penny auctions in general. Their Happy Auctions come pretty close, since you don't have to buy packs of bids in order to participate, but this also means you have even less of a chance to win an item with so many other people bidding.
The Hype and The Concept
The idea of paying money for bids just seems silly. It's akin to a carnival game, and you stand a chance of becoming addicted to the idea of getting a high-priced item for a low cost and getting one over on either the website, or the other bidders. The items being sold are given an inflated retail value, and can often be found at online retailers for lower prices than what they are claiming they are worth. Add to that the fact that they are buying these products wholesale, and you can see that the site is making money not only from the bids it sells, but from the auctions that are won as well.
The Cost
Happy BidDay is free to try out, and then they sell packs of bids for $.80 each for the lowest quantity pack, and $.50 each or the highest quantity pack. So the 50 free bids they start you off at have a minimum retail value of $25. In actuality it costs the company nothing to give you the free bids, but it is a nice enticement to get you to sign up.
The Penny Auction Flaw
There is an inherent flaw in penny auctions, and it favors the penny auction site. The flaw is that it is very highly possible to pay money and get nothing in return. You could unsuccessfully bid on plenty of product, chewing through your bids and racking up the cost of using the site. It is very unlikely that you will be able to just walk right up to an item, did once or twice, and when the item at a price that makes this worthwhile. What's also a big problem is you'll never quite know if real people are putting bids in, or if the system is set up to automatically place bids until it reaches a profitable point for the site.
Evaluation
One of the first differences you'll notice when you use Happy BidDay is that you get 50 free bids to start off with. Most other auction sites make you buy bids before you can even start participating. Of course you do have to register, and this creates value for BidDay because the more registered users they have, the more their site is worth, all else being equal.
Case Study: In the video above they basically reveal just how much money they make from a bunch of people that end up losing. They say that and HDTV went for $22.32 which means that 2,232 bids were placed by different bidders. Let's assume that all of these bidders bought big packs of bids and got the per bid price down to 50 cents. This is highly unlikely, but let's just assume that. This means that Happy BidDay made at least $1,116 on this auction. Plus the winning bidder had to pay the $22.32 in addition to whatever the shipping charges were. You can bet that the TV cost much less than the money they made from all of the bidding. But how about the person that got a TV for $22.32? Who knows how many bids they placed at the site to win an auction. It's more like a lottery than an auction, and for every one winner, there are far more losers that pay the price.
Final Happy BidDay Review
Happy BidDay definitely has a reason to be happy, they are most likely making a ton of money with their several streams of revenue coming in. They make money when people win an auction, but even more money from all of the people that don't win the auctions. Las Vegas slot machines are set up to pay out at a certain percentage, and who's to say that these auctions are not rigged to keep the timer going until a price threshold is met? Does the occasional person get a good deal on an item? Sure. The same way the occasional slot player walks away with a jackpot. You've got to show some winners to keep everyone playing.
Our Recommendation
We don't recommend going with a penny auction site, because it just makes more sense to find the exact item you want, find the lowest price online from a reliable retailer, and just buy it. Making shopping again seems like a giant step towards a postmodern world where we all have nothing better to do than take a chance at potentially winning a product that was made overseas, and is being trumped up with an inflated retail price, giving us the illusion that we're actually getting a deal when in fact we are being had.
What do you think? Does Happy BidDay work or not?