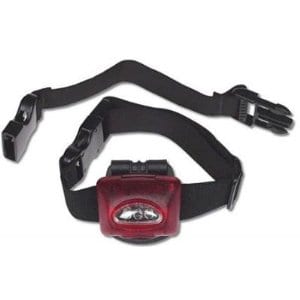 The Pup Light is meant to draw attention to your dog so that they can be seen more easily at night. They say that this will let you bring your dog on your nightly walks or runs, and that it will help illuminate your path, and helping to prevent potential accidents from not being seen. It's a legitimate concern, and seems to be a good fix for the problem, so let's see if they got this right or not.
Overview
If you've ever had a close call with your dog at night you have probably been avoiding taking them out for a walk when it's dark. It's just not as safe as a daytime walk, because drivers have more trouble seeing at night in general, and they typically do not expect to see a dog out at night either. But that's no reason to miss out on so many hours of free time you could be spending with your dog, or to take your walks by yourself. If you get something like this doggy light you wouldn't think twice to go out with your dog, any time day or night.
The Claim
The makers of Pup Light say that they have a patented design especially for this use, so it's not just a flashlight on a collar. They say that they use extra bright LED lights that can light things up for 200 feet. They also say that it's built to take a beating, which is good because it's going to be bouncing around quite a bit on your dog's neck. They also say that they've made it easy to get on, with a collar made from elastic so it's comfortable for your dog.
They've built this with some forethought, making it water resistant from rain and dog slobber. They've made it bright enough to be visible from 3 blocks away. It can even be seen up to a block and a half away when your dog is facing the opposite direction. And the dog's eyes are protected by a special rim that blocks the light from shining upward.
The Hype
Some people will take one look at this and write it of as just being an LED light stuck to a collar. But a lot more technology and design went into it than first meets the eye, and they've really tried to make this the best solution for lighting up your dog at night.
The Cost
The Pup Light is $27 if you go though their official sales channel, or you can get it for $20 and simply add an extra $5 to your order so it ships free.
The Commitment
All that you'll have to do is slip this onto your dog's neck, which they say is pretty easy because of the way it's constructed. It is not meant to be a collar, but is designed to be worn below the collar so you can take it on and off without disturbing their usual collar. After that you can simply forget about it, because it just stays on and it runs up to 150 hours without needing to replace the battery, so you don't have to concern yourself with turning it off and on to conserve battery life.
Evaluation
They say that the Pup Light is endorsed by the American Canine Association, but it's up to you to decide how much weight this should be given. The overall feedback from users is that they got this one right. The reviews are overwhelmingly positive. And the negative reviews are one-off problems that are either not relevant, or should have been followed up with the one-year unconditional guarantee that each one comes with.
Benefits of Walking at Night
For many of us, the night time is the only time we can squeeze our fitness in. It's too hard to wake up early in the morning, work keeps us busy during the day, and at night we finally have some free time. Also, if you don't take the sun well, night time is a great time to go jogging. But depending on where you live it can also be more dangerous, so bringing your dog on your walk or your run makes a lot of sense. With this light in place, it makes things go a lot easier, and you'll be glad that your dog becomes a hands-free flashlight for you.
Final Pup Light Review
Pup Light is a simple invention, and usually those are the ones that end up working when put to the test. This is pretty much a foolproof concept, but they went above and beyond and put some research into the design. It's not just a light on a collar, it's very bright lights that don't get into your dogs eyes, and that goes on and comes off easily.
Our Recommendation
This is a good product to go with if you've been wanting to take your dog out at night, but have been worried that it could be too dangerous. It solves the problem of being seen at night with them. Dogs don't really care what time of day you walk them, just as long as they get to go for a walk. If you live in a hot climate, the night time might be when the weather is at its best, and a nice cool walk can do wonders after a hot, stressful day. So get out there and enjoy it!
What do you think? Does Pup Light work or not?