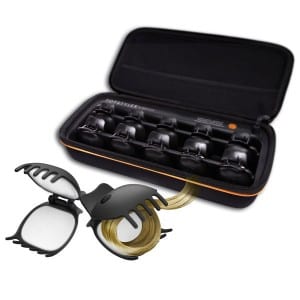 TopStyler promises more volume and curls in your hair in less time, and is hoping to follow up on the immensely popular InStyler.
Overview
Hair seems to be a matter of the grass is always greener: those with curls want to straighten their hair and those with straight hair try to curl it. If curls are what you're after you're probably used to getting them the old fashioned ways, either with a hand-held curler or with rollers. These are notorious for taking a long time to use, and providing curls that don't make it through the day. These are the two problems that the TopStyler is trying to address.
The Claim
The big claim for TopStyler is that it's supposed to be a way for you to get the curls you crave without going through the usual process of waiting for the curlers to heat up, and without damaging you hair. It's also supposed to create curls that last and last, so you get the most benefit for the time spent getting your hair to curl in the first place. It's the C-shell designs that are getting the credit for why this works so well, and the fact that they're lined with ceramic is the reason why this is supposed to be a damage-free way to style your hair.
The Hype
The InStyler received plenty of positive feedback and really was novel the way it could curl and straighten your hair at the same time, something that usually involves two steps for most people. Since they are featuring the InStyler brand prominently throughout the promotion of the TopStyler they are trying to build up hype by getting consumers to look at their new product in light of the fact that they produced a hit the last time around.
The Cost
You can score the TopSyler for around $100 online as well as in-store. That's for the basic kit which will include 5 larger shells, 5 regular shells, the heating base, styling wants, the DVD guide, and further instructions on how to use it. You can also opt for a $40 bonus kit that will get you an extra base, and a lifetime guarantee on the shells. They've also got assorted shampoos and conditions to help keep your hair looking its best. But you get everything you need to get started with it at the $100 price point.
The Commitment
One of the major draws to this curler is that you don't have to spend as much time curling your hair than you used to. This should definitely represent less commitment on your part, and should result in quicker "getting ready" time. Learning how to use it might take time, but it can be looked at as time well spent because it should end up saving you time later.
Evaluation
Those that like the TopStyler really like it, and those that don't really don't. It seems that in order to get it to work the way it's supposed to you need to perfect your technique. There's an included DVD and there are videos on YouTube to watch a real person do it, but some don't want to spend the time it takes to learn the skill to use it the way it needs to be used. This is understandable, and if you're going to spend $100 on a curling set it should be easy to use right out of the box. At the same time, if it turns out that you can get the hang of it quickly the results seem to be pretty impressive.
There's little doubt that the TopStyler works, as it works well for many of the YouTube users that give tutorials on how to use it. The bigger question is whether or not it will work for your hair type, and whether you'll be able to replicate the look in your own home once you get it. As far as the claims of curls lasting three times longer, and it taking only a third of the time, there are simply too many variables at play. What we can say is that many users report the curls lasting longer than other methods, and the process taking less time once you're fluid with it.
Final TopStyler Review
If you're willing to get past the learning curve TopStyler gets the Thumbs Up rating. Since it's a new method of curling your hair, it's going to take learning a new skill in how to use it. Just be prepared to spend some time with it, and don't let the excitement of finally trying it out cause you to rush through the training period. If you're still curling your hair the traditional way, it might be in your best interest to give this a try, because it could turn out to be your new way of getting the curls you really want.
Our Recommendation
This is a follow-up product from the makers of the InStyler, which earned our Thumbs Up rating, and which our reviewer really enjoyed. They are trying to ride on the success of that product with this one, and it seems that the reviews are a little less flattering than their original model. You may consider trying this out first if you don't have the time or the wherewithal to learn how to use the TopStyler, as the technique for the InStyler is something you can master from day one.
What do you think? Does TopStyler work or not?